The best electric (powered) ride-on cars that kids will love to drive. These are smaller versions of real cars and come with several exciting features that kids will enjoy.
Introduction to Powered Ride-on Cars for Kids
Electric cars for kids are battery-operated ride-ons that let kids experience driving in a much safer way.
These look realistic, both from the outside as well as inside.  The dashboard of a powered ride-on car looks like the dashboard of a real car, and these ride-ons also come with realistic sounds and lights.
These can go forward as well as reverse and many come with an auxiliary port to play music.
These are also a lot safer to drive!
These ride-on cars come with a maximum speed limit, and you can further reduce the speed of the car using the parental remote control if you feel that the terrain is uneven and not conducive to higher speeds,
Parental Remote Control
This is a big plus especially when you have a child who is still too young to completely master this ride-on toy immediately and requires assistance. With this remote, you can easily control the speed and also steer away the ride-on from unsafe corners and passages. 
You can take complete control over the vehicles' driving features and prevent your child from running into things, slowing them down, or even completely stopping the car/truck if needed. Just follow the (simple) instructions to pair the remote with the ride-on vehicle.
This feature provides peace of mind as you can guide your little one's movements and provide a safer yet enjoyable experience for your little one.
Assembly Instructions
These ride-on cars require some assembly. Just follow all the instructions provided in the book and it should take you about an hour to put everything together. The parts you need are clearly labeled and the instructions tell you to use which screws need to go where.
Buying an Electric Ride-on Car
You get a range of battery-powered ride-on cars and trucks (some have more powerful batteries and speeds than others)
You also get high-end, luxury ride-on cars that are modeled after the Mercedes, BMW, and Porsche, if that's what you're looking for.
Here, we have reviewed the more affordable options. You can choose from a wide range of colors, styles, and features, something that your child will find exciting. Please note that some assembly may be required for these ride-on cars.
In case your child is still too young and if you're looking for something smaller and less expensive, you can check out these remote-controlled (RC) cars for kids.
Here are the top 10 best electric cars for kids.
Best 6V Powered Ride-on Cars
Classic Sports Car for Kids (6V) Ride On Toy by Lil' Rider
The Classic Sports Car for Kids (6V Battery Powered) Ride On Toy by Lil' Rider offers a delightful vintage coupe style. Once charged, all it takes is turning the car on, pressing the pedal, and off they go! The car can move both forward and in reverse, with high and low gears, allowing for a versatile driving experience. It can be used indoors or outdoors on any hard, flat surface. The car comes with a parental remote control that allows parents to assist the child as they learn to drive.
For Ages 3 – 6 (max 70lbs. of weight). Dimensions: 36 x 22 x 15.5 inches. It has a speed limit of 2-3mph. The remote requires 2AA batteries to operate. It comes with a charging cable for the rechargeable battery of the car, and a cord is also included to play music.
This ride-on car offers several realistic features such as working headlights, a driver's door that opens, an auxiliary port to play MP3s, a horn, and sound effects, that add to the overall fun and excitement of the driving experience. Rugged high-quality plastics (free of banned phthalates) to withstand regular use.
Overall, a fine ride-on car that offers both excitement and peace of mind for parents.
Best 12V Powered Ride-on Cars
Kid Trax Dodge Viper SRT 12V Ride-on Car
The Dodge Viper SRT 12V Battery-Powered Ride-On Toy from Kid Trax is capable of both forward and reverse speeds of 2.5 to 5 MPH and is equipped with an electronic horn, LED lights, and an FM radio with MP3 input. This two-person ride-on toy comes with features such as rubber traction strip tires for all-terrain performance. A 12V rechargeable battery with Kid Trax direct connect one-step charging system. Kid Trax is known for producing excellent battery-powered ride-on toys. The original Dodge Viper car had a powerful engine and a sleek design. You get the same sleek design in this ride-on car.
Two-rider, 130-pound maximum weight capacity; recommended for ages three to seven years. Dimensions: 58 x 23 x 33 inches
Land Rover Defender (12V) by Moderno
The Land Rover Defender was known for its ruggedness, versatility, and off-road capabilities, and this ride-on car has several of those qualities, including looks and aesthetics.
This car holds a great charge and can be used for off-roading as well. Long lasting battery, available in various colors, Bluetooth stereo is really fun.
Ages 3 to 6 years. Speed: 2 to 6 Miles (parental remote). Dimensions: 47 x 25 x 22 inches
Best Choice Products 12V Kids Ride on Truck Car
Best Choice Products (BCP) are known for their high quality products. and this 12V ride-on truck is no exception. This is an excellent ride-on toy considering its features and cost.
It provides a realistic driving experience, offers parental control, has interactive functions, features a child-friendly design, and includes Bluetooth speakers for added entertainment. This ride-on truck guarantees hours of fun and adventure for your child while ensuring their safety and enjoyment.
Max speed of 3.7 mph. Dimensions: 46″ (L) x 29.5″ (W) x 31″ (H), and weight capacity of 65 lbs.
The realistic driving action of this ride-on truck allows kids to feel like they are in control of a real vehicle. Powered by a powerful 12V battery, this truck runs for up to 2 hours on a full charge. The larger wheels with rubber-like grip offer better traction and stability compared to hard plastic wheels, allowing for a smooth and enjoyable, multi-terrain experience.
Other features include parental remote control, LED headlights that allow kids to embark on thrilling adventures in low-light conditions, Bluetooth speakers to play your child's favorite music, seat belts, and locking doors for safety.
GMC Sierra Denali 12-Volt Battery-Powered Ride-On by Rollplay
The Rollplay GMC Sierra Denali 12-Volt ride-on truck is based on the GMC Sierra Denali, a popular and premium GMC pickup truck known for its luxury features and advanced technology.
The GMC Sierra Denali electric car offers a thrilling and realistic driving experience for young children aged above 3 years (max weight limit of 130 lbs). Dimensions: 157 x 71.5 x 90 cm.
The truck has a lifelike design with spacious seating area, easy-to-use steering wheel, clear windshield, detailed dashboard with battery life indicator, folding mirrors, all of which enhance the realistic driving experience for kids.
The car is powered by a 12-Volt battery with forward speeds of 2.5 MPH and 5 MPH, as well as a reverse speed of 2.5 MPH. Parents can even set a max speed limit for their child's driving; this ensures that younger and less experienced drivers can enjoy the car at a controlled and appropriate speed.
In addition, the car comes equipped with an MP3 connector, allowing kids to play their favorite tunes during their rides. Working LED headlights, horn, and engine sounds further enhances the driving experience for the child.
Its sturdy construction, attention to detail, and range of features make it an excellent choice for parents looking to provide their kids with hours of safe and exciting adventures.
This ride-on pickup is also available with 6V battery with a reduced speed of up to 2.5mph.
Fisher-Price Power Wheels 12 V Dune Racer
The Fisher Price Power Wheels Dune Racer is a battery powered ATV ride-on vehicle suitable for kids aged 3 to 7 years. Its stylish design, durable construction, and multi-terrain capabilities make it the perfect companion for "off-road" adventures. The racer is an absolute blast for adventurous kids as the vehicle can easily zoom over hard surfaces, wet grass, and rough terrains with ease. The sturdy steel frame of the Dune Racer Extreme is complemented by cool "chrome" accents, giving it a sleek and rugged appearance.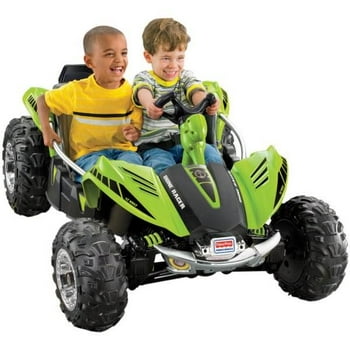 The open cockpit design provides room for two riders, there's even a hidden storage compartment under the hood. With safety features such as the Power-Lock brake system and adjustable speed settings, parents can have peace of mind while their child explores.
Maximum weight 130 pounds (58 kilograms). Two forward drive speeds (5 mph and 2.5 mph) and a reverse driving option. It includes a rechargeable 12-volt battery and charger. The Power-Lock brake system ensures quick and secure stops.
Rollplay 12V Nighthawk Electric Ride-On Toy
The Rollplay Nighthawk (12V) is an innovative ride-on for boys and girls, that kids will surely enjoy. Start and Stop pedals make it easy to control the speed of the Nighthawk which can touch forward speeds of up to 6 miles per hour.
For Ages 6+. 2-hours of run time.
Its quite easy to lean left and right to do quick turns with this toy. Side handlebars protect the hands and enable the child to remain secure. The ride-on toy comes with an included rear safety flag.
In order to charge the 12V battery you just need to plug in the included charger.
Best Powered Ride-on Trucks
Peg Perego John Deere Ground Force Tractor
The John Deere Ground Force tractor is just like the tractor that a lot of kids will enjoy, and it will make them feel like they are in the fields where all the crops are grown. Someone who is driving it will be in the open air, and the kids may recognize it because it is the tractor they have seen on the fields in the past. You may choose this tractor because your child wants a special tractor to ride every day.
Pros: Easy to use and drive, simple to drive when in the driver's seat, tractor looks just like its bigger cousin
Cons: Might be the wrong color, may be too hard for some kids to drive, could be too large for people who have little storage space.
Funtoyworld is a family-managed website with me (Ben), and my wife doing most of the work. We are proud parents of two wonderful kids and love reviewing toys. We have a firm but friendly "democratic parenting" style and offer several practical suggestions backed by extensive research. Our own experience with raising two children prompted us to share our knowledge. Read more.