Find the best stuffed lion (plush) toy for kids to play and have fun with. Children love cute and cuddly soft toys and these are also perfect for nighttime cuddles.
Ty Beanie Babies Louie Lion (Cecil the Lion)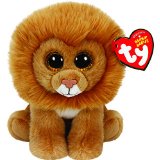 Ty Beanie Babies Louie Lion is the latest and new addition from manufacturer Ty Inc. The manufacturers have launched this new toy to commemorate Cecil the Lion from Zimbabwe.
Cecil was shot and killed by an American, Minnesota based dentist Walter James Palmer during a hunting trip in Zimbabwe. This has understandably created outrage world over. Cecil was a locally popular lion who was collared and being tracked through GPS, as a part of a study conducted by Oxford Wildlife Conservation Unit.
Ty Inc plans to donate a part of the proceeds from the sale of Beanie Babies Louie Lion to the Oxford Wildlife Conservation Unit. They also hope to raise awareness among people about wildlife conservation. Earlier too Ty Inc had come up with a conservation related toy in 2004 which was a co-branded effort between Beanie Babies and World Wildlife Fund.
Features:
The Louie Lion toy is a cute toy with big eyes. It is easily lovable and soft to hold. The eyes of the toy sparkle, catching the fancy of many kids. It also has a heart shaped authentic TY tag. It is made of quality material and ideal for kids of 3 years of age and above. Dimensions: 2 x 2 x 5.9 inches; 4 ounces The product has a customer rating of 4.8 out of 5
This plush Lion toy from Ty Inc makes children happy and also commemorates Cecil, the lion from Zimbabwe. In the past too, Ty Inc has created such world conservation related toys. We hope that this helps spread the message of preserving the wildlife among people as it was intended to do.
Lion: Useful Information
Here's a nice small autobiography of a lion, sent by one of our readers 7-year old child.
I am a lion, my body is brownish yellow in color. I look like a normal lion but am very tall for a lion. I was born in Kenya and I had one brother. Soon my mother started to take my brother and me on her hunts. On my first hunt I caught a Buffalo. I only eat meat. But as soon I grew up I became ferocious. Soon some forest officials caught me and sent me to a National Park. The first few years were peaceful but one day an irritating tourist was saying to me, "What a slow lion" I got so angry I just killed him. Then a few days later the ranger came and tranquilized me. Then when I woke up, I was surrounded by men. I started to roar then I realized they were trying to tame me. Since then I am very calm. Now I am very old and I cannot do anything.
Funtoyworld is a family-managed website with me (Ben), and my wife doing most of the work. We are proud parents of two wonderful kids and love reviewing toys. We have a firm but friendly "democratic parenting" style and offer several practical suggestions backed by extensive research. Our own experience with raising two children prompted us to share our knowledge. Read more.