Here are bath toys to turn your little one's bath time into an enjoyable and educational experience. Some of these bath toys are more than just playthings; they are wonderful educational tools designed to expand children's knowledge while they have a blast in the water.
Make Bath-time a Playtime
Is your little one fussy when it comes to taking a bath? You can make bath time the favorite time of the day for your children using these Bath Toys for Kids.
Bath toys nowadays provide an engaging platform for your children to discover and understand the world around them.
Watch as they become fascinated by wild animals, ocean life, vehicles, and more!
These are thoughtfully designed with lively colors, making them visually appealing and stimulating for your children. The perfect size ensures that they can easily hold and squeeze their new companions with their little hands.
The bath toys reviewed here are crafted with non-toxic materials, ensuring a safe playtime for your children. Whether in the shower, pool, or at the beach, you can have peace of mind knowing your kids are playing with toys that are designed with their well-being in mind.
Give your children the gift of discovery and play with these bath toys. Let them immerse themselves in a world of fun, learning, and imagination with a wide selection of characters and colorful bath buddies that will surely provide your little one with all the encouragement they need to get in the shower.
Happy splashing!
Best Bath Toys for Kids
Dollibu Bath Toy Collection
Dollibu's bath toys are thoughtfully designed to expand children's knowledge about animals, colors, and more. These bath toys include wild animals, ocean creatures, and vehicles and nicely blends education with playtime, making it a win-win situation.
These are made from durable, lightweight and non-toxic materials, and can be used in the shower, pool, or at the beach.
The toys' ideal size is perfect for my little ones' hands, allowing them to easily hold and squeeze them, and let their imagination run wild as they embark on underwater adventures.
Lagunamoon Bath Bombs for Kids
When dropped in water, these bath bombs release color, bubbles, scent, and makes bath time more fun for kids. No more convincing and cajoling to get your kid to take a bath.
These vegan bombs are safe to use, and also come with surprise toy inside providing even more reason for kids to enter the bath tub.
Blooming Flower Infant Baby Bath
The Blooming Flower infant baby bath is a unique, safe alternative (and a lot cuter) to the traditional plastic bath tubs. This one is ultra soft and cradles your little bundle of joy, so they remain comfy during bath time. Once done, wring out and hang dry, or machine wash and dry.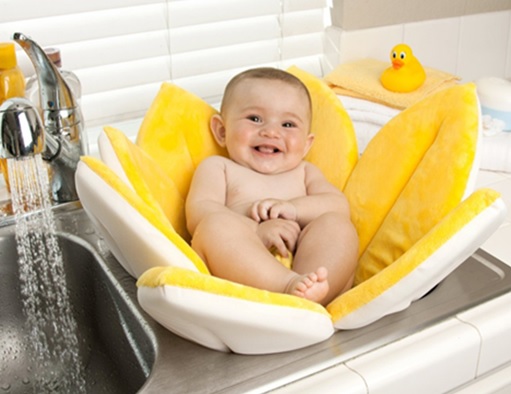 It can be used in virtually any type of sink and also works great in a baby bath tub, so babies of all ages should be able to use it and enjoy it!
The cute plush flower is filled with soft, comfortable foam and the flower petals fold to create a cozy seat in the sink to help you bathe your baby.
It is made from plush polyester material on the top, the center is a high quality polypropylene foam and the back is made from a durable polyester mesh back. Dimensions: Its 32 inches from tip to tip. The center of the flower (where the baby's bottom rests) is 10 inches across in diameter.
Cleaning Your Bath Toys
It is very important to clean your bath toys regularly because mold and germs that accumulate on toys can cause allergies, respiratory problems, and other health problems, especially if the child already has a weak immune system.
Studies show that traces of mold and bacteria are found on most toys – rubber, plastic, and foam – although rubber bath toys are likely to attract the most germs. Poorly ventilated bathrooms could provide the right conditions for needs to grow on bath toys.
So, it is very important to clean your children's bath toys regularly.
Clean the bath toys at least once a week.
Solid bath toys, with no holes, can be cleaned like any other surface.
Clean your bath toys with disinfectant wipes and rinse them once a week.
You should let the toys completely dry before using them again.
You really do not need to change your kids bath toys, unless they are damaged. Regular cleaning is sufficient to keep them usable for a long time.
Pool toys and swimming aids expose kids to cancer?
A study says that children's arm bands, pool toys, and swimming aids can expose kids to cancer; in fact, kids could get infected just by inhaling the plastic smell.
German study found three toxic chemical compounds in PVC arm bands
Chemicals are most toxic if the smell of PVC is strong
Isophorone is a category 2 carcinogen; phenol has been linked to tumor growth; cyclohexanone is a toxic compound that can cause long-term skin irritation
Researchers from Fraunhofer Institute for Process Engineering and Packaging IVV in Germany conducted tests using an inflatable beach ball, a pair of swimming armbands and two bathing rings.
Source: dailymail
Funtoyworld is a family-managed website with me (Ben), and my wife doing most of the work. We are proud parents of two wonderful kids and love reviewing toys. We have a firm but friendly "democratic parenting" style and offer several practical suggestions backed by extensive research. Our own experience with raising two children prompted us to share our knowledge. Read more.