The best Kids Tricycles provide a sense of freedom and adventure to kids. Besides being fun, they're also safe and help kids get some exercise. From children needing an extra hand to the ones that are ready to roar, you will find a wide range of kid's tricycles and trikes designed for all stages of riding development. Smartly designed tricycles and trikes can be used for years, as they have the ability to grow with the child. Check out more fun riding toys here for your favorite little ones.
Introduction
One ride-on toy that is extremely popular among Toddlers and preschoolers is the tricycle, and its been a favorite for ages. Even as a child, I have received several trikes as birthday gifts. Now that I have kids, even they receive these as gifts, but what I have observed is that there are more varieties now available in tricycles.
Most trikes come with pedals which the kids can use to pedal and steer; these are the most commonly used trikes in most parts of the world.
You get trikes (for smaller kids) that come with handlebar so that you can take them around like a stroller

Trikes (big wheels) are very popular in North america. These trikes have a big front wheel and a lower seating position which makes it very safe for riding fast and for spinning. No wonder kids love it.
Other variants of trikes include cycles that are actually bikes but come with two extra support wheels in the rear to prevent the child from falling down. As the child grows, those two support wheels can be taken off and it can be used as a regular bike.
Then you get really versatile tricycles that can be used as tricycle, stroller, bike thus allowing the ride-on to be used for several years.
A tricycle has one less wheel, but most of them have a safe (low) design; avoid the very cheap ones as what I have seen is that they tend be less stable.
While most kids are ready to pedal on their own by the time they are three (some are ready earlier), I would suggest all kids to wear a well-fitting helmet on every ride, especially outdoors. And when they are riding inside (the under 3 years) make sure there are no pointed and sharp edges around.
Kids Trikes / Tricycles are versatile all-in-one products that has a trike, board, stroller all rolled into one product. Use it like a stroller in the initial months. As your child grows up, remove the steering handle and your child can use it as a tricycle/trike and then bike.
An additional feature offered by some of the popular trikes is the foot rest. It lets another child stand at the behind, which means you can practically take two children on these trikes. But not every Trike has that feature, and the foot rest available on such trikes may not be as spacious as offered by some of the popular stroller boards.
Best Tricycles & Trikes
Here we take a look at the best stroller tricycles, designed specifically for toddlers. The in-depth reviews of these stroller trikes are based on several factors, including customer feedback.
These reviews will help you select the best stroller tricycle…with a solid construction, stable, and an eye-catching design. The only inconvenience with these products is that these don't fold flat (for better portability), but then the kids enjoy using these more.
Radio Flyer 4-in-1 Trike
Looking for a toy that will not only teach your child early bike riding skills but also will stay in use for many more years? The 4-in-1 Trike is the ultimate grow-with-me trike. The Radio Flyer 4-in-1 Trike converts from an infant trike to a steering trike, learning to ride trike, and finally a classic trike, thus offering you four different ways to use the trike.
Pros
: Easy to assemble. Easy to steer using the push handles. Good design. Handles are adjustable. Comes with a small basket that can hold a few diapers or doggy pop bags or a bottle of water, has a cup holder to keep water cup. Umbrella is useful when outdoors to protect her face and shoulders. Foot pedals can be locked to rest the foot. Great way to begin teaching your child bike riding skills
Cons
: Wheels are made of "soft plastic" and are not rubber wheels, yet they are surprisingly quiet. No drink holder on the handle bars; you can keep things in the bucket but you'll have to stop to reach to it.
About Radio Flyer
Over the years, Radio Flyer has created a legacy of toys that continue to spark the imagination. Their beauty, simplicity, and standards of safety encourage adventure, discovery, and the wonders of childhood. Radio Flyer continues to create innovative products with the same classic quality and sheer sense of play that have been their trademarks from the beginning.
Features
: Here are the main features of the Radio Flyer 4-in-1 Trike:
Accommodates ages 9 months to 5 years
Weight capacity 49-Pounds
Available in Red color and Pink color
Includes safety features for the youngest riders
Removable wrap (pink or grey) around tray for safety
3 point harness system to keep infants safe
The seat is adjustable, useful as your child grows
Pedals switch from pedals to foot rests
The trike has quiet ride tires when pedaling
The height-adjustable push handle and stroller-style canopy can be detached for older riders.
Sturdy steel frame construction
Dimensions: 19.9 x 35 x 40.8 inches; Weight: 15.2 pounds
[easyazon_link identifier="B003AVIO4K" locale="US" tag="strollers0e2-20″]Buy on Amazon[/easyazon_link]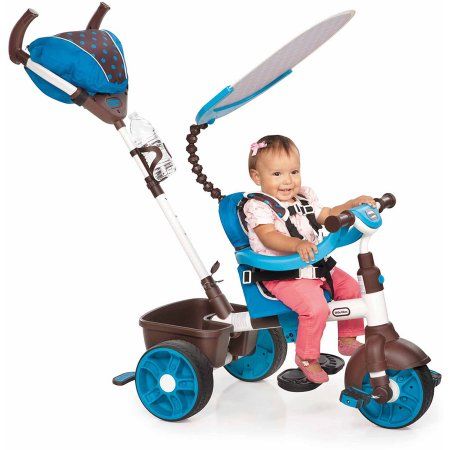 Little Tikes 4-in-1 Trike
Here are its main Features:
3 stages to grow with a child – Parent Push Trike, Parent Guided Trike and Kid Powered Trike.
Seat adjusts to 4 positions to fit almost any size child, 5 point seat belt harness and protective safety bar.
Adjustable, detachable push handle, push handle lets parent control direction with 1 hand.
Non-slip pedals and footrests fold away and detach.
Durable metal/plastic construction, extra large storage bucket with dumping feature and convenient beverage holder.
Watch: Little Tikes Perfect Fit 4-in-1 Trike demo
What the customers are saying:
The Little Tikes 4-in-1 Trike certainly appeals to kids and in overall is a fun ride, however not without a number of serious drawbacks to it. The number one observation that had made the customers doubt their choice is the relatively unstable construction, and this affects both the frame and the plastic tires. Moreover, the quality of steering is not top-notch according to some of the buyers, as the push bar handle cannot be tightly gripped on. Nevertheless, the tricycle does turn. Well, with only minimal swerving. Amongst the pros are the ability to adjust the tricycle and the relatively easy assembly process. Some other things that the customers noted included the impracticality of the sun shade, especially in a windy setting, and the slipping of the shoulder straps.
[easyazon_link identifier="B00EPE5TE4″ locale="US" tag="strollers0e2-20″]Buy on Amazon[/easyazon_link]
The Kettler Happy Air Navigator Trike is a robust and well made trike that kids will love. If you little one is tired of the stroller and wants a fun ride, something that will also teach him/her biking skills, this is a great product to . PROS: Well built and quiet on the road, real rubber tires, allows your child to pedal, brake, or coast CONS: Bit expensive but is quiet and offers a smooth ride
Take a look at this video to see how the various features are to be used.
More features of the Kettler Happy Air Navigator Trike:
Komfy-Ride Air Tires for superior performance and smooth ride
Adjustable frame & adjustable seat for more comfort
Easy on easy off rear wheel navigation
Pushbar included
Seat Belt included
Overall, a great product that will surely a big smile on the face of your child when he/she gets in it.
[easyazon_link identifier="B019817KLS" locale="US" tag="strollers0e2-20″]Buy on Amazon[/easyazon_link]
Fisher-Price Rock, Roll 'n Ride Trike
Parents are always in search of toys for their kids that are useful, sturdy, and can last for some time. The Fisher-Price Rock, Roll 'n Ride Trike is one such toy that offers the best of all the worlds.
This sturdy trike offers three ways to ride as your child grows, from as young as 1 and 1/2…all the way to 5! The base locks in place for ride-on, rocking fun. As your child grows, the base converts to an X-tra long parent handle so you can comfortably stroll behind your child, offering a helpful hand while they learn to pedal and steer. And when they're ready to ride on their own, the handle removes, the seat adjusts, and the foot pegs fold up for easy, independent pedaling.
What's In The Box? Rock, Roll 'n Ride Trike XL trike base, wheels, handlebar, and instructions Here are the main features of Fisher-Price Rock, Roll 'n Ride Trike XL:
Three "grow-with-me" stages let kids Rock, Roll, and Ride! Stage 1: Rocking fun for little ones Stage 2: Rocker base converts to extra-long parent push handle to help toddlers roll along Stage 3: Independent pedaling fun for big kids! Easy to convert (no tools required) Ages 1 and 1/2 to 5 years Weight Limit: 50 lbs.
Clever Design & Flexible
Roll 'n Ride Trike XL is cleverly designed to keep up with the way kids grow physically and developmentally, thanks to an adjustable seat, flip-up footrests and three fun ways to ride. The rocker base is especially fun for little ones. Flip the base and it becomes an X-tra Long parent handle for toddler-time, so you can lend a helping hand as your child learns to pedal and steer. And for preschoolers, it converts to a three-wheel trike for independent riding fun.
Grows With Your Child!
With the Roll 'n Ride Trike XL, your child can learn to rock, pedal & steer; it encourages the development of motor skills, and it promotes healthy physical and emotional development, too. Every time your child masters a new skill, it paves the way to independence and a growing sense of "I can do it!" self-confidence. And of course, being active helps to keep them fit.

For Years of Use Rock, Roll 'n Ride Trike XL is built Fisher-Price tough, with features designed for kids including a wide wheelbase for stability, an adjustable seat, a footrest that flips up and out of the way, chunky pedals and easy-grip handlebars. In addition, the trike is built perfect for parents to push their kids along. The X-tra long push handle provides the length and leg-room required to comfortably stroll behind your child.
[easyazon_link identifier="B00JCA5DPG" locale="US" tag="strollers0e2-20″]Buy on Amazon[/easyazon_link]


Joovy Tricycoo Children & Toddler Tricycle
Here are its main features:
For children as young as 18 months and up to 44 pounds.
Fold down footrest and removable baby surround arms provide stability to a younger child.
The push handle can be removed; the height can be adjusted from 32.5″ to 38″.
Wheels are injection molded with urethane treads, rolls quietly on most floors.
The pedal lock can be unlocked or locked to allow your child to freewheel or pedal by themselves.
Add-ons: the bucket on the back and a bell.
What the customers are saying:
Amongst some of the advantages of this tricycle is that it is easy to handle, and that it runs smoothly. The assembly is easy and can be done quickly. It is durable and good looking, and even although it does not have any flashy decorations it is nevertheless attractive to the eye. The removable footrest works quite well: you have to pull down on it in order to unlock it and let the kid ride on his/her own, or you can set it in a down position for a kid to rest his/her feet on. However, the footrests may be uncomfortable to use: some buyers deem that they are placed too far away. Also, the major downside to safety is that the child can override the adults steering by turning the handlebars hard enough; then it becomes difficult to keep the tricycle on a straight path. Furthermore, some question the functionality of the parent's steering handle: it is a bit wiggly and irresponsive due to small sizing. Additionally, your kid's physical characteristics come into play: please be aware that the tricycle will be uncomfortable for 40+ pounds, 3+ yr. olds.
[easyazon_link identifier="B01IHXX0KI" locale="US" tag="strollers0e2-20″]Buy on Amazon[/easyazon_link]
Buy Online: Top Merchants
[easyazon_link keywords="Tricycle Strollers" locale="US" tag="strollers0e2-20″]Top Tricycle Strollers on Amazon[/easyazon_link]
Kettler Kettrike Oceana Tricycle
The Kettler Kettrike Oceana Tricycle is perfect for a fun ride for kids. Kettler Kettrike Oceana Tricycle is not only smooth and enjoyable ride for a kid but also extremely safe and sturdy. It has parental lock systems and other safety options such as low center gravity which prevents a child from tipping over or careening out of control. With so many safety and adjustable features, Kettler Kettrike Oceana Tricylce is a stress free ride for both the child as well as the parent.
Key features of Kettler Kettrike Oceana Tricycle :
Size adjustable with Quick-Adjusting telescoping frame
Easy step –through S-frame design
Smooth-rolling synthetic Max Xtred tires
Oversized slip-resisting pedals
Handlebars with steering lock systems
Adjustable high back seat with 4 positions and handhold
Recommended age: 1-5 yrs
Dimensions: 11 x 16 x 19 inches ; 19 pounds, Shipping Weight: 18.4 pounds
High carbon steel frame coated with fade resistant polyster
Radio Flyer Ride & Stand Stroll 'N Trike
The Radio Flyer Ride & Stand Stroll 'N Trike is a fun and long-lasting grow-with-me trike. The four-in-one trike is designed to bring years of riding enjoyment to your child.
The four-in-one trike has an adult steer and stroll adjustable push handle, footrest for early stages, secure three-point harness with high-back seat and a wrap around tray with cup holder. It has a great stand-on platform for a second rider.
Features of Radio Flyer Ride & Stand Stroll 'N Trike:
[easyazon_infoblock align="none" cart="n" identifier="B00E5UP64Q" locale="US" tag="strollers0e2-20″]
Age Range: 9 months to 5 years
Removable wrap around tray with cup holder
High-back seat
Secure 3-point harness (removable)
Adult steer and stroll adjustable push handle
Footrest for early stages
Great stand-on platform for second rider
Material: 33 percent steel/52 percent plastic/4 percent hardware/11 percent fabric
Assembly required
Maximum weight capacity: 49 lbs
Dimensions: 40″L x 23.5″W x 39″H
Watch: Radio Flyer Ride & Stand Stroll 'N Trike
Buying Links
[easyazon_link identifier="B00E5UP64Q" locale="US" tag="strollers0e2-20″]Buy on Amazon[/easyazon_link]
Monkeycycle
Monkeycycle is a modular bike that can be used as a stroller, balance bike, pedal bike, trike, tadpole, quad. The stroller, which is listed in a Kickstarter campaign, is still in development. When available, this stroller trike will make parents avoid buying multiple products that quickly sit unused or are outgrown.
Monkeycycle is a Modular Bike that grows with your child

Kids Trikes: Buying Guide
Before buying a trike, factor in these things:
How old/big is my child?
Where is your child going to ride?
Does it look safe (for small children)?
Does it have sun shade and parent handles (not necessary but it could be useful if you spend considerable time with your child outdoors)
As mentioned, these are the two popular types of toddler trikes:
Big wheel tricycles: Low-riding tricycles with big over-sized front wheel.
Push tricycles: Three wheel cycle with pedals. Most kids use these before they are ready to graduate to a bike
Smart Trike Accessories
All the accessories that you need for a smart trike to make it suitable for 1-year olds and up. A line of trike accessories (shoulderpads, neck support etc.) designed to match the Zoo trike line and line and suiting both strollers, car seats and trikes.
Make Your Decision
The most flexible of these products allows a young toddler to sit on the trike seat (if the child is old enough, he/she can even ride it, else a rest is provided for the feet). In addition, you can also have an older child stand at the back, when he/she gets tired of walking.
The best part is that you can use it like any other double stroller (or like a stroller connected to a stroller board). These can be comfortably steered using the height-adjustable parent handle connected to the back.
Back to home page from Stroller Trikes (Ride and Stand)